The artists contributing to the #UDHRquilt project are a richly diverse community. They are aged between 17 and 62 years; some identify as LGBTQI; and range from first-time embroiderers to hobbyists and trained professionals. For some, the #UDHRquilt Project was their first work of craftivism.
"Creating this piece and showing it to my peers was an important process of me finding comfort within my sexuality and being myself. This project has helped me come out of my shell (and the closet) and I hope it inspires others to do the same."
— Loretta Avery, Canada, Article 22, the Green Quilt
Like the UDHR itself, the quilt blocks represent the ideas of people of many different cultures and nationalities, including (in no particular order): New Zealand, Chile, the Netherlands, Colombia, Sweden, Israel, Australia, Puerto Rico, the country formerly known as Macedonia, Venezuela, Canada, Turkey, Latvia, Ireland, Brazil, Romania, the United States of America, Estonia, the United Arab Emirates, Argentina, Russia, Spain, Ukraine, England, Mexico, Portugal, Austria, Palestine, Scotland, India, Germany, Finland, Wales, South Africa and France.
The artists embroidered their assigned Article in their local language/s, including Catalan, Swedish, Tswana and Ukrainian. Many artists also used their quilt block to draw attention to a local human rights issue, or to celebrate people who have campaigned against rights violations.
Each artist spent an average of three months creating their block. They then mailed their work to Melbourne, Australia, where Tal hosted several quilting bees to transform the 120 blocks into four large, appliquéd quilted wall hangings.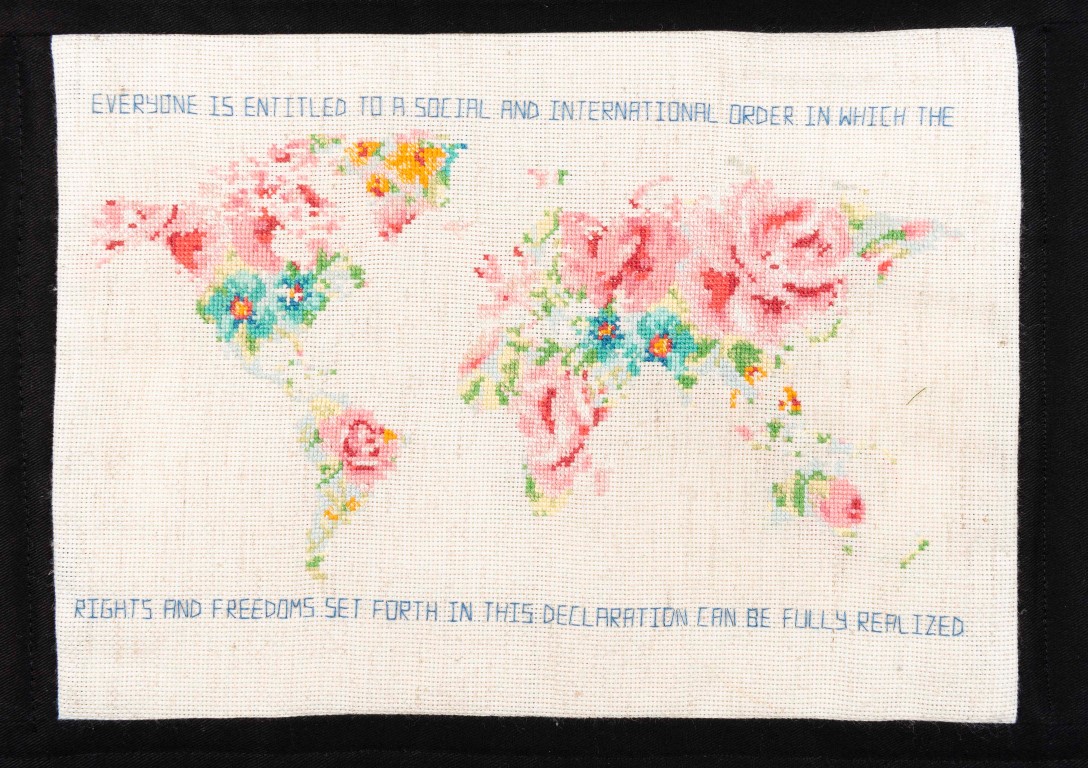 "To put the focus on the UDHR takes us to a place where no label matters. Only being Human. It doesn't matter what country you are from, your age, gender, etc. I imagine the final result as a beautiful textile made of so many bits and pieces that gave account of the diversity of humans on our planet."
— Gugui Cebey, Argentina, Article 18, the Yellow Quilt