Article 30
Nothing in this Declaration may be interpreted as implying for any State, group or person any right to engage in any activity or to perform any act aimed at the destruction of any of the rights and freedoms set forth herein.
KERA
About my work
A big part of Estonian culture and identity is expressed in our national costume. It is filled with gorgeous symbolic embroidery with which our history is told. The symbols are intended to give strength and power to women in our country. 
I was inspired by our President's 2017 Independence Day speech. It highlighted the massive cultural problem of domestic violence, the lack of acceptance of asylum seekers and refugees, and the importance of respecting human rights. This speech was in the headlines for months. I found the controversy sad. The negative attitude towards women, refugees and other minorities—from people who cherish their national symbols and what they represent. People who have fought for their independence; who have themselves been in the minority during Estonia's history; or who themselves fled during wartime to seek asylum. It's surprising how much hate can fit into a country with only 1.3 million people.
I used traditional colours and symbols on a piece of black fabric from my grandmother, who had kept it from Soviet times. It is now more than 40 years old. The flowers symbolise strength, peace, love and fertility. Cornflowers are one of the official symbols of Estonia. 
- KERA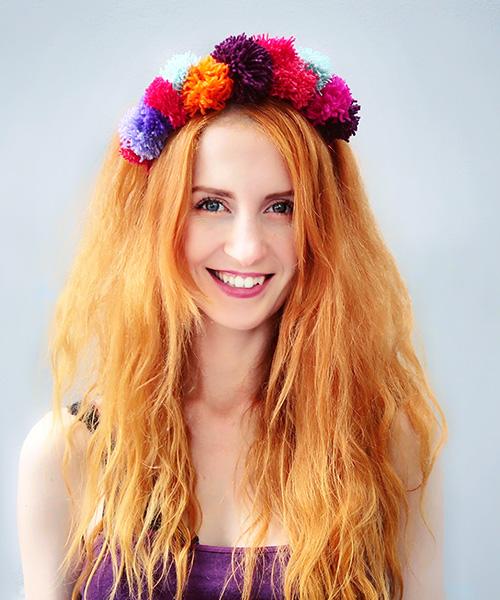 About me
KERA is an illustrator and crafter from Finland, currently based in Estonia. Art and crafts have been a massive and daily part of her life from very early on. She has studied different mediums of art in several art schools, both in Finland and Estonia. 
KERA focuses mainly on creating whimsical illustrations using different painting techniques as well as markers. Having education in textile design, her focus at the moment is crocheting, embroidery but also silk printing, which she uses to create different things from textile sculptures but also more everyday products. She finds inspiration for her creative work mainly from Scandinavian design and classical art, especially Finnish art and design, but also takes influence from traditional Baltic folk crafts, children's illustrated books, animations and nature. 
Currently KERA is on parental leave and uses her time to expand her experiences and knowledge in different mediums. Her goals at the moment are to create textile sculptures, open her own shop and work on a personal exhibition. This craftivism project was her first but after contributing in this project, her approach to her own work is now more political and focused on raising awareness on current social issues.
Other blocks about Article 30