Thursday 25 October 2018 - 1 July 2019, 9am - 5pm AEDT
At a time when the patchwork of liberties is fraying, craftivism is a global movement that combines craft and activism into quietly powerful protest to call for social and political change. Craftivism allows people to actively engage in democracy, contribute to social change, and transform the world one stitch at a time.
The #UDHRQuiltProject exhibition features never before seen work from a global craftivism project. Stitching in local and global stories; see the intricate detail of these quilts that represent the world's conscience.
Aided by the power of social media, Australian craftivist Tal Fitzpatrick and fellow USA based craftivist Stephanie Dunlap put the call out for collaborators. 131 craftivists from across the globe, united by their passion for quilting and human rights, came together to showcase the power of their voices through the work of their hands.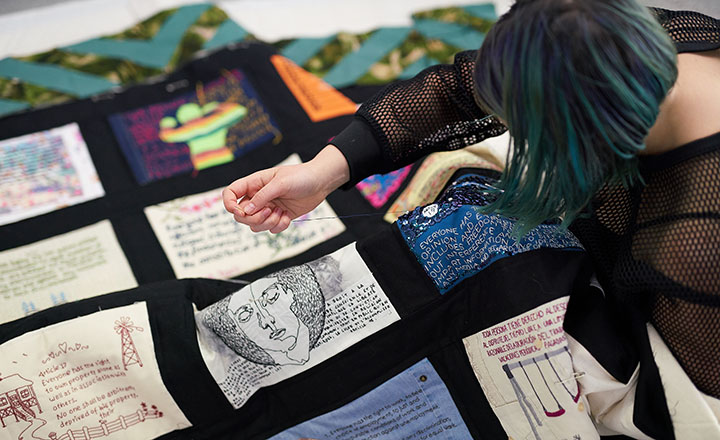 Through the creation of four quilts, each embroidered with the articles of the Universal Declaration of Human Rights, the project draws attention to the way human rights are challenged around the world today. The messages sewn into the quilts aim to make visitors think, engage and take action.
The #UDHRQuiltProject exhibition moves beyond a traditional museum experience by inviting visitors to get involved. Visitors can immerse themselves in craftivism by participating in a range of hands-on craft activities, workshops and community-based events. Textile artist, Tal Fitzpatrick, will be on hand for special events throughout the exhibition to facilitate workshops and discuss the everyday practice of democracy through craftivism.
Find out more about visiting Old Parliament House ».