Article 25
Everyone has the right to a standard of living adequate for the health and well-being of himself and of his family, including food, clothing, housing and medical care and necessary social services, and the right to security in the event of unemployment, sickness, disability, widowhood, old age or other lack of livelihood in circumstances beyond his control. Motherhood and childhood are entitled to special care and assistance. All children, whether born in or out of wedlock, shall enjoy the same social protection.
Kimberly Becker
About my work
I live in the United States. To me, it feels like we are living in a dictatorship. Women, children, people of colour, refugees, immigrants—all of us. I am terrified, furious, exhausted. In this country, abortion is legal, but the Trump administration is removing options. In this country, we finally had health care for all, but the Trump administration is under-funding the program, so it basically no longer exists. In this country, it is legal to seek asylum, but the Trump administration is taking families, separating them from their children and locking them up.
The image for my square is Alan Kurdi, the three-year-old boy who washed up on the beach in Turkey in 2015. Everyone knows that image. Everyone feels pain seeing that image. All his family wanted was a safe place to live. They were not a threat to anyone. They were leaving a threat behind. This little boy died because the world failed him and his family.
- Kimberly Becker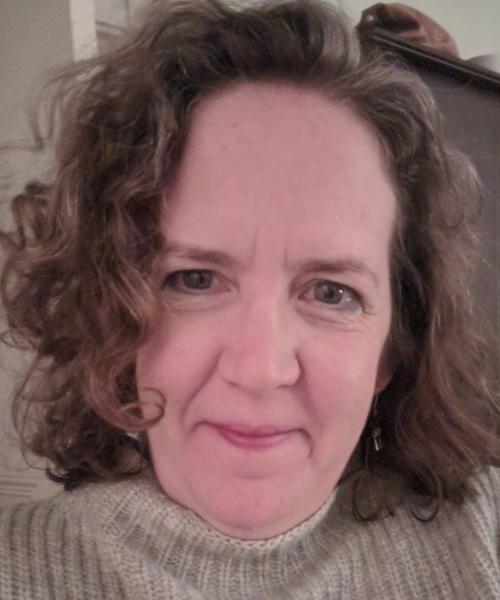 About me
Kimberly Becker is a painter/embroiderer living in Boston, Massachusetts. She has a degree in textiles from Rhode Island School of Design and has been trained at Ecole Lesage in Paris as a master embroiderer. Her work is a passionate discussion of what it means to be female in the 21st century. Using the tools of women's work, needle and thread, she is giving a voice to women.
Kimberly is currently developing an ever-growing body of work called The House Dress Project where she creates dresses that tell stories. The stories, which are shared with Kimberly by individual women, tell tales of being left behind, overlooked, held back and denied rights and dreams. Women have been suffering these injustices for centuries simply because they were born female. The current political climate in America is dragging women backwards. Women have stories to tell about the injustices they are suffering. Women have been largely left out of history and Kimberly believes it is time for them to be included. 
Someone once described her work as 'harnessing anger and creating beauty'. This sums up her art well. Experiencing her subtle colour palette, delicate creations and detailed embroidery work, you are drawn in and want to know more.
Participating in the #UDHRquilt Project was a perfect fit for Kimberly. Her quilt square features the image of the little boy who washed up dead on the beach after trying to escape his country with his family as a refugee. Women and children suffer differently. They need to be supported. The image Kimberly chose to use hits this issue hard.
Other blocks about Article 25