Article 25
Everyone has the right to a standard of living adequate for the health and well-being of himself and of his family, including food, clothing, housing and medical care and necessary social services, and the right to security in the event of unemployment, sickness, disability, widowhood, old age or other lack of livelihood in circumstances beyond his control. Motherhood and childhood are entitled to special care and assistance. All children, whether born in or out of wedlock, shall enjoy the same social protection.
Lelainia N. Lloyd
About my work
As I read Article 25, I thought of my great-grandfather, Grandpa Nowell. He was a baker, forced to stop working after developing a severe wheat allergy. He had no means to support his wife and six children, save for going on 'relief'. The government gave farmland to families on 'relief' so they could provide for themselves. Grandpa Nowell worked the farm for years. When my grandmother, Verna, was 17, she moved away for an office job and sent money home to support the family. 
The photo in my block is of Grandpa Nowell, my great-granny and four of their children. The button is for my great-granny, who was a seamstress. The measuring tape belonged to Verna (middle, back row of the photo). The house is a cardboard scrap, representing poverty. 
In many countries there is NO social safety net, and in those that have one, it's often woefully inadequate. Poverty kills, and no country is immune.
- Lelainia N. Lloyd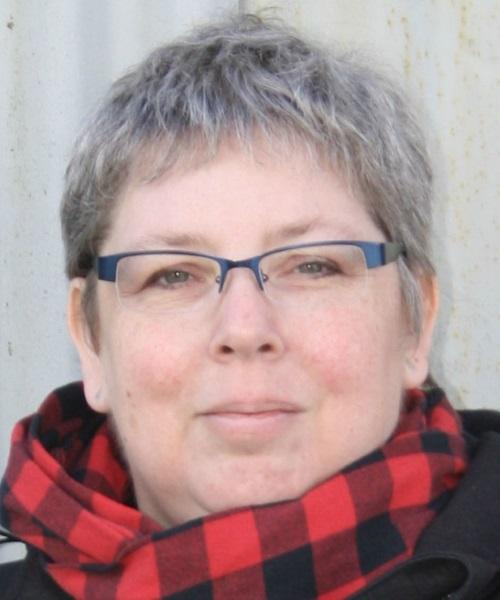 About me
Lelainia Lloyd is a self-taught, mixed-media artist, writer and designer. Born and raised in Winnipeg, Manitoba, she will always consider herself a dyed-in-the-wool prairie girl, but there's no place else she'd rather live than on the beautiful west coast of Canada.
Most days Lelainia can be found working on a stack of current projects, with the music cranked up so she can get into her creative groove. When she comes up for air, she's usually outdoors with her husband and their beloved black Lab, Indiana Jones, hiking the wilds, beachcombing for small treasures and photographing the beauty of her world.
Lelainia's artwork and articles have appeared in numerous books, magazines, e-books and independent zine publications, including her own mixed media art zine, Manual Dexterity. Lelainia has designed for Paper Artsy (United Kingdom), Paper Valise (Canada) and Hannah Grey (United States) and has appeared as a guest artist on both Breakfast Television and The Shaw Express.
In 2010, Lelainia was chosen as torchbearer for the Paralympic Torch Relay, was a Difference Maker medal bearer in 2012 for the Rick Hansen 25th Anniversary Relay and was awarded the Queen Elizabeth II Diamond Jubilee Medal in January 2013 for her lifetime of volunteer service to Canada. She is a passionate advocate for those living with neuromyelitis optica (NMO, a rare disease she lives with) and multiple sclerosis, and for accessibility and inclusion. She is a health blogger for the Rick Hansen Foundation, the MS Society of Canada and NMO Diaries.
Lelainia's previous craftivism includes creating a quilt block for the United In Memory Quilt project in 2002 to memorialise those lost on 9/11. She has also contributed her work to numerous charitable causes.
Other blocks about Article 25