Article 1
All human beings are born free and equal in dignity and rights. They are endowed with reason and conscience and should act towards one another in a spirit of brotherhood.
Sam Harlow-Black
About my work
Craftivism is something I'm passionate about. I'm also passionate about equality in all areas of public life. I used rainbow colours to express an underlying theme of diversity across the spectrum of society. 
The colours celebrate the marriage equality law changes in Australia, which allow my partner and I to choose marriage if we wish. Putting my picture on my work shows that I, a proud Generation X citizen of Australia and member of the LGBTQI+ community, am willing to stand up to STOP discrimination against those who identify as non-binary genders. And we must work together to provide housing and dignity to the 100,000+ homeless Australians, a large proportion of whom are children and young people.
As the parent of an autistic child, I fight for my son's right to dignity and equal participation in society. It is 'the sisterhood' who primarily care for vulnerable people. We need to STOP discriminating against those with disabilities.
- Sam Harlow-Black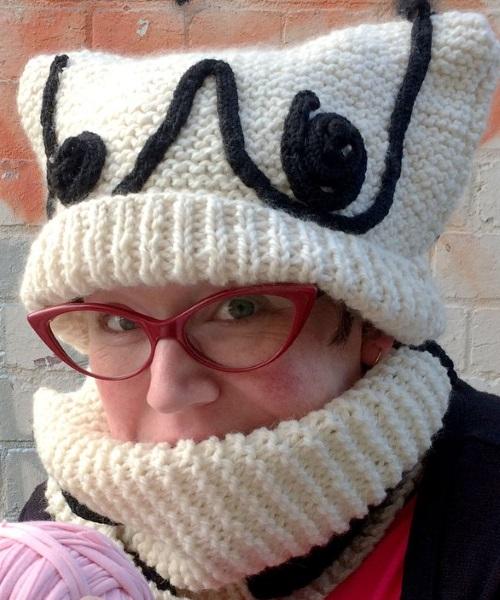 About me
Sam Harlow Black is a mother of four, and stepmother of three. As a craft-based textile artist from the northern suburbs of Melbourne, she has always been a fanatically creative person and self-taught painter, hand-spinner and crocheter from a young age. Through her studies in teaching, textile design and art therapy as well as lived experience, she has developed a strong practice in handmade textiles which include her own unique and quirky illustrative style. While raising her children, Sam educated herself in art history by reading and collecting books about artists who inspired her on her artistic journey. She looks to local artists, such as painter Mirka Mora and sculptor Deborah Halpern, as well as the work of international artists, such as Niki De Saint Phalle's 'Nanas' and Louise Bourgeois' textile sculptures, which inform her shapes, as well as Yayoi Kusama's obsessive patterning, which inspires her highly patterned works. This style continues to be reinvented and explored whilst building her resume as an emerging artist.
Sam has developed her craft-based textile art practice through her studies in the Master of Arts (Art in Public space) program at RMIT, which she completed in June 2018. Through her research project, she investigated the uses of handmade craft as a tool for meaning-making, self-expression and performance in site-specific public art. As part of her research project, she produced and performed a 'one woman show' inspired by Yoko Ono including singing, self-composed slam poetry and craftivist artworks used as the set. She is currently teaching her quirky brand of woolly knitted art-making, making textile works and pursuing her interest in community-based art practice. Sam is artist-in-residence at Alternative Women's Fitness, Thornbury, in her 'art squat' where she hopes to teach more low-budget expressive art workshops aimed at empowering and encouraging the mental health of women.
Other blocks about Article 1