Article 3
Everyone has the right to life, liberty and security of person.
Briony Martin
About my work
Article 3 highlights what is missing from the lives of people with learning disabilities, who are dying prematurely in the United Kingdom. I became aware of these deaths after taking part in the #justiceforLB campaign. Connor Sparrowhawk (Laughing Boy) was 18 when he drowned in a bath in a National Health Service treatment unit. The national Learning Disabilities Mortality Review confirmed that in the United Kingdom, people with learning disabilities die on average 15–20 years sooner than the general population. 
These issues are personal to me, as my youngest daughter has autism. I also support adults with learning disabilities as a charity worker. Poor standards of care, social isolation and poor mental health are all too common. With cuts to disability benefits and services, the problems have gotten worse. 
My block has a strong symbolic image accessible for all people to interpret. I hope it encourages people to read Connor's story and challenges their perceptions about people with learning disabilities. 
- Briony Martin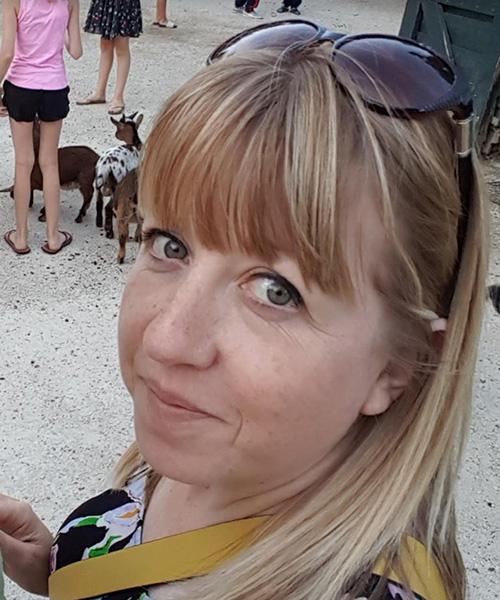 About me
Briony Martin is originally from South Wales but now lives in Leeds, England. She is a support worker for a small charity that provides work training and wellbeing skills for adults with learning disabilities. She was originally a self-employed textile artist, but her passion for working with adults with learning disabilities came after she took part in a campaign called #justiceforLB, seeking justice for the preventable death of Connor Sparrowhawk, known as 'Laughing Boy', who had autism and epilepsy. She contributed a textile piece to the campaign, which led to her interest in craftivism. 
Although Briony no longer practises art full-time, she still tries to find time for small projects and has more recently been able to sell work to help raise funds for The Trussell Trust food banks and homeless charities, Simon on the Streets and Shelter. She is interested in social justice, disability and mental health issues and loves Sleaford Mods.
Other blocks about Article 3