Article 11
Everyone charged with a penal offence has the right to be presumed innocent until proved guilty according to law in a public trial at which he has had all the guarantees necessary for his defence. No one shall be held guilty of any penal offence on account of any act or omission which did not constitute a penal offence, under national or international law, at the time when it was committed. Nor shall a heavier penalty be imposed than the one that was applicable at the time the penal offence was committed.
Caren Garfen
About my work
The United Kingdom's justice system is respected as a fair judge of criminal activity, but sometimes innocent people spend stretches of time in prison. I have carried out thorough research and collated the names of men and women who have been imprisoned in British jails but have eventually had their sentences quashed. 
An original, second-hand blue-and-white striped prison shirt was procured, its label with the words 'HM PRISON' still attached. The garment came with an ink stain, utilised as a reminder that innocent people can be left with 'a stain on their character'. I have deconstructed the shirt to make the patch, and have reattached the labels, buttons and buttonholes. 
Names and the number of years spent incarcerated have been hand-stitched along the stripes to form the bars of a prison cell. All of those named were imprisoned after 10 December 1948, when the Universal Declaration of Human Rights was adopted. 
- Caren Garfen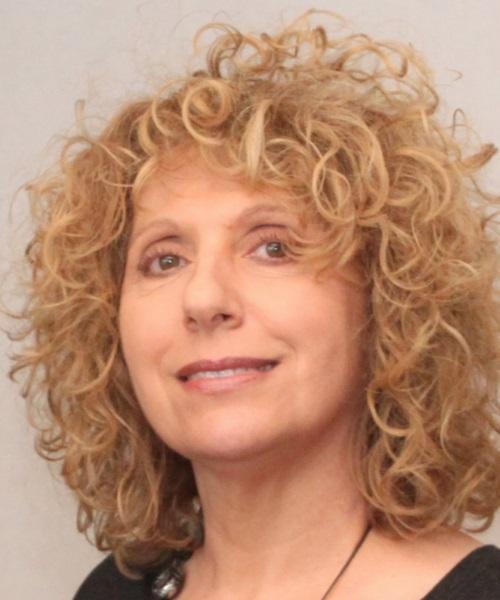 About me
Caren Garfen specialises in textiles and painstaking hand-stitch, creating carefully considered pieces with profound messages. Her interest is in gender politics and women's issues, mainly focusing on social pressures and dieting in the 21st century. She creates one-off artworks, commissions, site-specific pieces and installations, and has worked on group projects with other artists. Her wryly humorous and sharply observed hand-sewn messages are the result of extensive research and intuitive observation. Caren has established an international reputation for her accessible yet challenging issue-based art. Her work has been exhibited widely in the United Kingdom and Europe, as well as in Japan, the United States and Canada. 
Over the past four years Caren has gathered research from a variety of sources, including three international conferences, to utilise in her current artworks, which focus on eating disorders and their debilitating effects on young people. Caren has also examined various forms of social media to uncover The Secret Life of an Eating Disorder. She created Tweets (Not Sweets), using anonymous tweets and hashtags that specifically deal with the sufferers' illness. The anonymity echoes the secrecy of this mental and physical disorder. Another artwork, Identity Crisis, was inspired by a confidential conversation with an anorexic schoolgirl. Experiences have been recorded and hand-sewn onto specially constructed hospital wristbands. They decrease in size sequentially to highlight the progression of her illness. 
Caren also created Hard Act to Swallow focusing on the media attention given to celebrities with eating disorders. This hand-stitched piece displays forenames of famous people inside hand-sewn pharmaceutical tablets. Whilst the viewer can identify some of the represented celebrities, many names could possibly refer to themselves or others. In fact, whilst exhibiting this work at one of the conferences, an attendee talked about her sister who has an eating disorder and whose first name could be found on the piece. The deeper subtext of this seemingly simple piece corresponds with the complexity of the illness. Once this body of work has been completed, it will be exhibited in the form of an art installation.
When Caren was commissioned to make a contemporary quilt for the prestigious V&A Museum's acclaimed Quilts 1700–2010 exhibition in London (her one and only bedcover!) she never thought that she would become involved in the #UDHRquilt Project and is delighted to have contributed to collaborative art activism.
Other blocks about Article 11