Article 8
Everyone has the right to an effective remedy by the competent national tribunals for acts violating the fundamental rights granted him by the constitution or by law.
Sofia Fitzpatrick
About my work
I am passionate about human rights because we are all on this planet together. We need to look out for each other. We are all one, all connected. What we do to others we are doing to ourselves. For me that also extends to animals and the planet itself. We are made out of carbon, nitrogen, oxygen atoms and other elements that were created in stars over 4.5 billion years ago. Homo sapiens and every other animal, as well as most of the matter on Earth, contain these elements. The eyes floating with stars symbolise that we are all made of stardust!
I began the work by writing out the text on the fabric with chalk, then stitching over it with coloured thread. It took a long time to stitch. The writing was quite tedious, but when I got to the free style of stitching the eyes and the stars, I really started enjoying myself.
- Sofia Fitzpatrick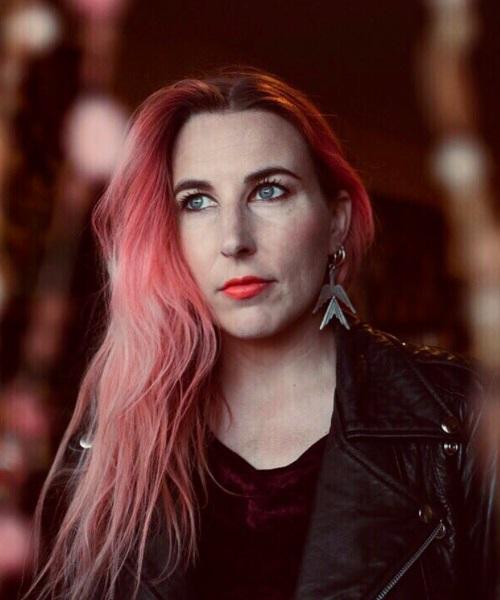 About me
Sofia Fitzpatrick is a Sydney-based artist, who was born into a family of creatives.
From as early as she can remember, Sofia could hold a pen and this is where it all started, drawing. When she left school at 16, Sofia got her first job drawing illustrations for history books. After that she began collaborating with her paternal grandmother, artist Dawn Fitzpatrick, who created 'cloth-art' using the techniques of applique-quilting, painting and drawing. After spending time living overseas and working as an artist making hand-painted tiling, Sofia returned to Australia. 
 
Today, Sofia Fitzpatrick specialises in creating wearable art and boutique hand-carved jewellery made using lost-wax carving techniques. Her work has been featured in publications such as Skull Style and Rock Star Chic: the dark side of high fashion which feature works from over a hundred of the world's most influential contemporary artists and designers. Sofia has also been showcased in a number of exhibitions and collaborations that have seen her gain international recognition for her raw and beautiful skull-inspired designs.
Other blocks about Article 8