Article 13
Everyone has the right to freedom of movement and residence within the borders of each state. Everyone has the right to leave any country, including his own, and to return to his country.
Sarah Pedlow
About my work
My block and Article 13 speak to several major human rights violations enacted by the current US administration, in breach of one of the nation's founding tenets. I have stitched a pattern from an Iranian carpet onto a piece of linen from Poland with netting intended for a hat or veil. 
Article 13 feels especially timely given the US Government recently placed restrictions on who may return to the United States after visiting certain countries. As an artist working with textiles, cultural exchange and preservation, this issue is particularly significant. Being able to travel is crucial to my work preserving traditional embroidery from other countries. The people I have met and skills I have learned—as well as the inspiration of experiencing life in other cultures by attending artist's residencies in Hungary, Mexico, Iceland and the Netherlands—have been a crucial part of my life and art practice.
- Sarah Pedlow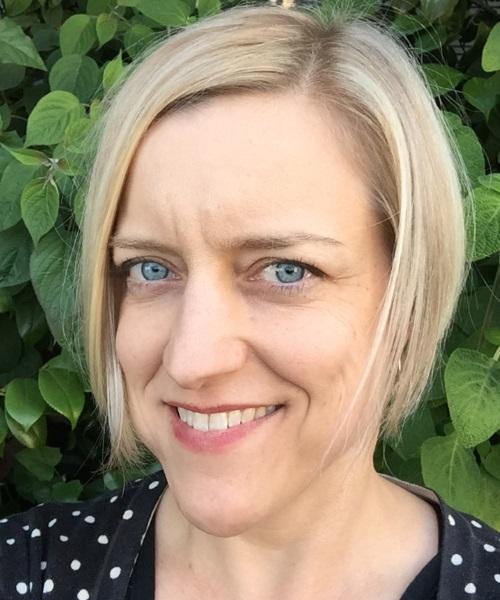 About me
Sarah Pedlow, artist and founder of ThreadWritten Textiles, is interested in traditional textiles, cultural preservation, and creating a global community of makers connected via cultural heritage skills. Her fine art work ranges from photography and mixed media to textiles-based sculpture. From 2012–15 she researched Kalotaszeg written embroidery in Transylvania, Romania, and made products with women artisans. She has attended artist's residencies in Budapest, Hungary; Iceland; Oaxaca, Mexico; and the Netherlands. Sarah has also spent time studying embroidery in Ukraine. She lives and works in Oakland, California, holds a Master of Fine Art from Rutgers University, and teaches and lectures in the San Francisco Bay Area, as well as across the United States. 
You can find her online at www.threadwritten.com  and www.sarahpedlow.com.
Other blocks about Article 13