Article 2
Everyone is entitled to all the rights and freedoms set forth in this Declaration, without distinction of any kind, such as race, colour, sex, language, religion, political or other opinion, national or social origin, property, birth or other status. Furthermore, no distinction shall be made on the basis of the political, jurisdictional or international status of the country or territory to which a person belongs, whether it be independent, trust, non-self-governing or under any other limitation of sovereignty.
Vanessa Ægirsdóttir
About my work
I chose this particular declaration because of how it relates to the rights and freedoms that I see being violated every day in my community and in the life of my partner, who is a First Nations man. As an advocate for the rights of those experiencing racism, sexism, transphobia, misogyny and xenophobia, I wanted this quilt block to represent each of them by using floss in non-Caucasian flesh tones for the Article text and for each of the French knots along the border. 
It was a hugely time-consuming endeavour to fill the border with all of those tiny knots, but the time spent doing so was used to hold these people up and to honour them and their rights.
- Vanessa Ægirsdóttir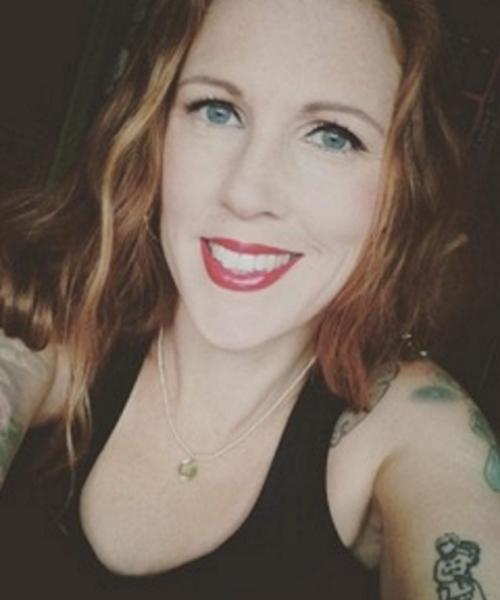 About me
Vanessa Ægirsdóttir is a textile artist with over 20 years' experience working with fabrics, yarns, and other fibre-based media. Her earliest childhood memories are firmly anchored in playing dress-up, handmade dollies and crafting. Her mother was a west-coast Canadian hippie with a love for fabrics, embroidery, quilting, and handcrafts, which instilled in Vanessa a love for making things with her hands from even the simplest, often repurposed materials. 
She has attended two residencies in north Iceland and has participated in numerous group exhibitions in Canada and Iceland. During her time in Iceland, she has spent considerable time exploring 'slow textiles' using manual, traditional methods of making fabric. She hand-spins her yarns on a spinning wheel and uses a hand-built frame loom to produce her tapestries. 
In her work, her love of Canada and Iceland is evident. Her Iceland Series highlights the limited palette and textural uniqueness of the rugged landscape. In these pieces she uses exclusively Icelandic materials–wool, fish leather, lava rock, and swan feathers. The Canadian works reflect the range of colours found in the scenery that make Canadian landscapes so unforgettable. As with the Icelandic weavings, Vanessa uses exclusive Canadian materials in her Canada Series; materials such as wool, sea glass, quartz, and shale.
In her practice, she puts particular focus on mastering the proper processing techniques and use of the dual-coated wool of the Icelandic sheep (which is a particular challenge) and producing yarns, fabrics, and tapestries from this unique fibre. Additionally, she takes great care and pride in each step of processing fleeces, regardless of origin, to allow each breed of wool to be celebrated and enjoyed for its individual beauty.
Other blocks about Article 2