Article 10
Everyone is entitled in full equality to a fair and public hearing by an independent and impartial tribunal, in the determination of his rights and obligations and of any criminal charge against him.
Nadine Jones
About my work
I found this project an exciting opportunity to talk to other artists who use embroidery as a form of painting. I regularly use red tones in my work as it's a very emotive language that symbolises blood. For this project, I used red thread for another reason: it is a traditional Welsh colour; the colour of the dragon on our flag. I also used yellow because this is the colour of our national flower, the daffodil, which blooms in its thousands in spring. I bought the cotton material in the Brecon Beacons of mid-Wales. 
I sewed the Article in my home language, Welsh, because although I no longer live in Wales I still feel a huge connection to my homeland and the people who live there. Welsh is a beautiful old Celtic language that is slowly being used less and less in Wales. It's important to keep the language known and used. 
- Nadine Jones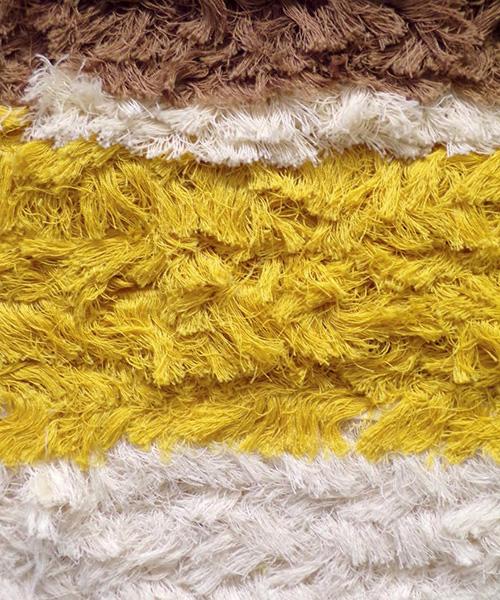 About me
Nadine Jones is currently an undergraduate at the University of the West of England, studying fine art. Nadine recently completed an Erasmus exchange at Willem de Kooning Academy in Rotterdam, the Netherlands, where she further developed her interest in textile art and gender politics. She is interested in pushing the boundaries of contemporary textile art, from working with embroidery, hand-weaving and knitting into forms that express the experiences of the female body.
Other blocks about Article 10