Article 4
No one shall be held in slavery or servitude; slavery and the slave trade shall be prohibited in all their forms.
Jessica Wohl
About my work
This block highlights the relationship between Article 4 and the 13th Amendment to the US Constitution, which reads, 'Neither slavery nor involuntary servitude, except as punishment for crime whereof the party shall have been duly convicted, shall exist within the United States'. The orange background recalls prison uniforms, and the white text on a police height chart calls to mind the link between imprisonment and slavery.
I am outraged by America's skyrocketing mass incarceration. People can be imprisoned for years before being convicted. With white Americans predominantly in charge of the government and criminal justice system, and the vast majority of prisoners being people of colour, some may say the 13th Amendment's loophole allows for a legal exchange of slavery for imprisonment. As a resident of Tennessee, where the Confederate flag still flies, I consider it on a daily basis. Article 4 is being violated, every day, millions of times over, in the United States.
- Jessica Wohl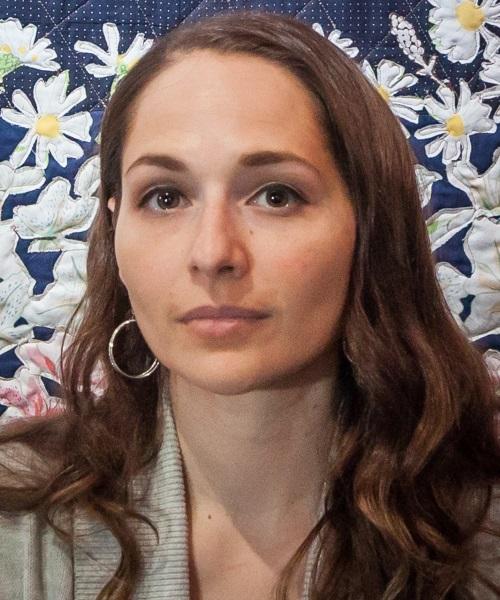 About me
Jessica Wohl received her Bachelor of Fine Art from the Kansas City Art Institute in 2001 and her Master of Fine Art from the University of Georgia in 2010.
Jessica's work has been exhibited nationally and internationally, including at the Belfast Photo Festival, the Museum of Design Atlanta, the Robert Mann Gallery in New York and the Zeitgeist Gallery in Nashville. Her work has also been exhibited at venues in Miami, New Orleans, Kansas City, England, Finland, Norway, Italy, Hong Kong and Korea, and has recently been featured in New American Paintings, Vogue, and ArtNews. Her work is in the collections of the Nerman Museum of Contemporary Art, the Sprint-Nextel Corporation, the H&R Block World Headquarters, numerous private collectors and is included in the Drawing Center's Viewing Program. She is participating in the Artist Residency in Motherhood, and is currently an Associate Professor of Art at the University of the South, where she teaches drawing and painting.
Other blocks about Article 4