Article 9
No one shall be subjected to arbitrary arrest, detention or exile.
Ashley Catharine Smith
About my work
Article 9 was important to me because of issues plaguing my country. While I was stitching, lawyers and protesters were on their way to John F Kennedy International Airport to fight President Trump's 'Muslim ban'. The ban unjustly prevented people from seven Muslim-majority countries from entering the United States. Then, the Trump administration announced that immigrant children at the southern border were to be detained at facilities separate from their parents. The United States also has a history of systematic racism that targets people of colour through mass incarceration. 
I stitched on a napkin that belonged to my mother. I used it so she could be part of the project, and because it resembles the colour of my skin. I stitched a gradient of different flesh tones with a technique that mimics the look of hair. By using different flesh tones, I hope to convey a sense of unity among all people. Equality is a human right. 
- Ashley Catharine Smith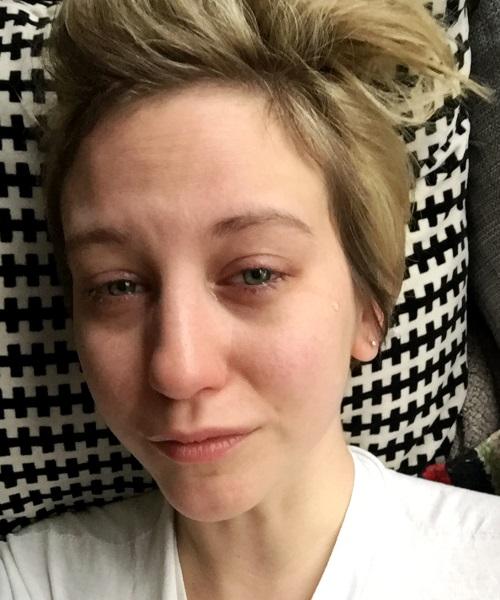 About me
Ashley Catharine Smith is a New York-based artist working in photography, video and fibres. Through the combination of these mediums she creates melodramatic depictions of relationships, sex and gender. Her work is driven by her desire to understand how rules about feelings and gender roles affect our interpersonal relationships and sense of self. Ashley explores the complexity of relationships by depicting intimate moments with an additional element of fibres seemingly growing from the surface of the photograph.
Smith has a Master of Fine Art in Photography, Video and Related Media from the School of Visual Arts in New York City. Her work has been exhibited internationally and throughout the United States at the Delaware Art Museum; Society for Contemporary Craft and the Pittsburgh Center for the Arts, Pittsburgh; Marin Museum of Contemporary Art, Center for Sex and Culture, San Francisco; Danubiana Meulensteen Art Museum, Slovakia; and the Knockdown Center, New York; among others. She is currently an adjunct photography professor at Drexel University and an instructor at the International Center of Photography.
Other blocks about Article 9