Article 24
Everyone has the right to rest and leisure, including reasonable limitation of working hours and periodic holidays with pay.
Erica Mena
About my work
I chose Article 24 because I became disabled in 2016 and was bedridden, unable to work or create art in ways I had been doing before. I struggled intensely with feelings of despair, worthlessness, and terror of becoming uninsured and homeless. 
The image represents my loss of ability to have or enjoy rest—when you're confined to bed, you are not resting. It also represents the loss of childhood play, or adult rest, experienced by exploited peoples all over the world.
The fabric is from a guayabera, a dress shirt worn in Puerto Rico and many places colonised by the Spanish. It is worn traditionally by labourers, but on days of celebration and leisure. Capitalism trains us to associate our value to our labour. Art allows us to consider associating our value to our rest: that you are valuable because of who you are, not what you do. And that you deserve to rest.
- Erica Mena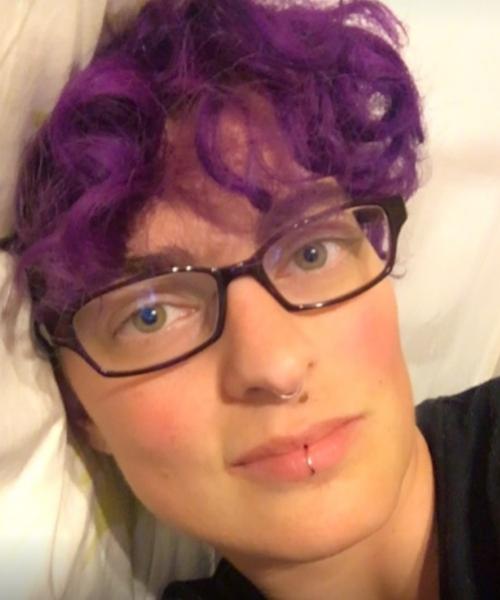 About me
Erica Mena is a poet, book artist, and translator. Their book Featherbone (Ricochet Editions) won a 2016 First Horizon Award, and their translation of The Eternaut by HG Oesterheld (Fantagraphics) won a 2016 Eisner Award. Other translations for Fantagraphics include Wrinkles by Paco Roca, The Ladies-in-Waiting by Santiago Garcia and Javier Olivares, and Spanish Fever edited by Santiago Garcia. They've received fellowships and residencies from Banff, Vermont Studio Centers, Arteles (Finland), and Trexel (Paris). Puerto Rican by descent, they live in Providence, Rhode Island, and are a lecturer in book arts and literary arts at Brown University. 
Find them online at www.acyborgkitty.com
Other blocks about Article 24