Article 23
Everyone has the right to work, to free choice of employment, to just and favourable conditions of work and to protection against unemployment. Everyone, without any discrimination, has the right to equal pay for equal work. Everyone who works has the right to just and favourable remuneration ensuring for himself and his family an existence worthy of human dignity, and supplemented, if necessary, by other means of social protection. Everyone has the right to form and to join trade unions for the protection of his interests.
Tina Struthers
About my work
Being an immigrant and self-employed artist, I have often considered work rights as privileges, foreign to my reality. Embroidering this Article reminded me that too often vulnerable individuals—minority groups, migrant workers and refugees—are so desperate for an opportunity to rebuild that they are abused or underpaid in the workplace. 
The base for my quilt square is a simple linen child's apron that belonged to my grandmother. It was most likely made for her by her mother or grandmother, around 1908. During this time rights for workers, especially women, were almost non-existent. 
Aprons are work garments, often worn by individuals in circumstances where their rights are not respected. Aprons also protect us or our garments; a simple metaphor to represent the protection of individuals in a work context.
Being a child's apron, I hoped it serves as a reminder that child labour is still a reality, and this injustice needs to be addressed.
- Tina Struthers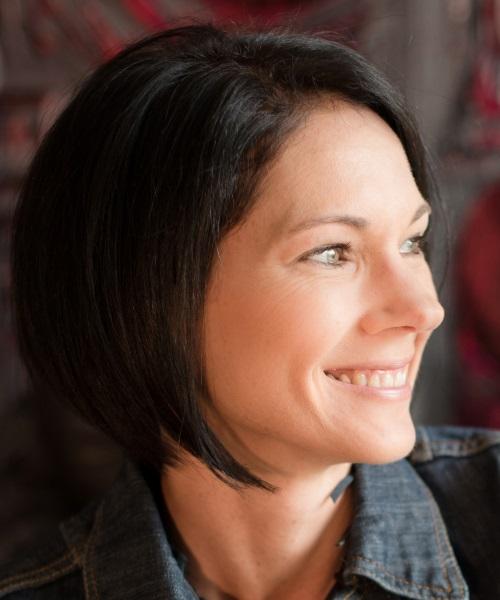 About me
Tina Struthers is a Canadian textile and visual artist. Born in Cape Town, South Africa, she now lives and works in the greater Montreal region. The focus of her work is diversity, inclusion and human impact on global societies and environments. She creates textile abstractions that attempt to map the unpredictability of the emigrant experience. 
Her work engages with themes such as multiculturalism where the richness of textures and diversity is omnipresent, with a fascination for the movement created by the wind as a metaphor for displacement. Specialising in combining fibre and textile elements with a focus on detailed surface texture, her work has been exhibited regionally, nationally and internationally.
Her art practice also includes the creation of public artworks and the development and presentation of cultural mediation and community arts projects and workshops. She has participated in various group exhibitions and fundraisers supporting diverse causes.
Struthers is a recipient of grants from the Quebec and Canadian arts councils and various prizes and mentions. Her formal training started at the Open Window art academy where she studied visual communication with fine art specialisation, after which the focus of her work shifted to using textile as her principal medium.
Other blocks about Article 23